The Cusco community has in many ways shown it's support of the Chicuchas Wasi school, especially since our new school opened in 2013.  We appreciate their help and share below is a list as of May 2016.
Dr. Hyber Luna, Dentist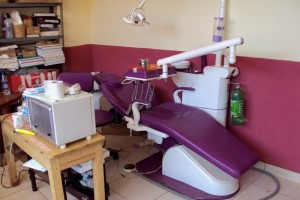 Dental chair above donated by Dr. Hyber Luna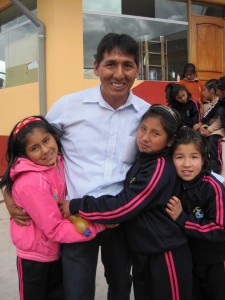 The dental exams and restoration were sponsored by Efrain Valles Morales, APEX Peru Adventure, Cusco Tour company in 2015.  All of our students saw the dentist for the first time in 2014 and were treated and instructed on good oral hygiene. Efrain Valles Morales, a part of CW for 30 years and active CW board member today sponsored this program for the school 2015 year. Since then we Covid and other financial hurdles put this project on hold. Since then we only sporadically bring the dentist to the school for dental checkups.
Local Community Supporters
Ing. Elgner Roman, organized students of the University of Andes of Cusco – they donated notebooks, clothes, and toys.
Fernando Uribe – donated 5 wood tables,  10 wood chairs
Parents group of CW family – donated 6 DVDs, curtains, Basketball hoop, puzzles proceeds from a fundraising event at the school.
Biologist, Rossana Vera – donated 5 garbage cans and 1 recycling can for plastic
Local Business Support
Amazona Explores S.A. – Office supplies and food supplies
Tanit Trails – Office supplies and food supplies
Hotel Casa San Blas – 5 televisions for classrooms
Ruben Apaza – Fruit
Ugel Cusco – Cleaning supplies and education material
Bakus S.A. – 10 wooden trays and ceramic plates
Local Government Support
Ministry of Education – Provides accreditation and defines academic guidlines
Ministry of Justice – Oversees nonprofits status
Municipality of San Sebastian – Road maintenance, Loans us the podium, tables and other items for school civic activities
Medical team: Dr. Champita and his Nurse come to Chicuchas Wasi school every March to do student medical exams
Cusco Rotary Club – sent visiting Rotarians to paint murals and planted fruit trees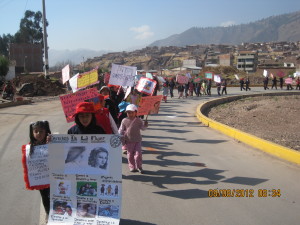 CW girls march in the community, with class made signs, to promote the end of violence to women and other international awareness days.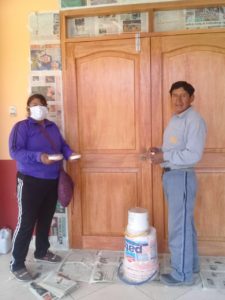 With obligatory attendance at the meetings of their daughter's school, parents realize they are an importence influence in the success of the school and their daughters progress in education. Here the painting of the worn doors of each classroom needed some maintenance and parents organized themselves to paint them.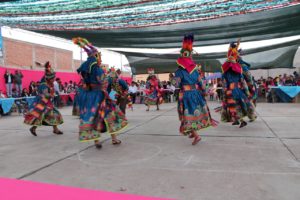 Our parents often dress in their traditional costumes and proudly dance for their daughter's school and in this case for the CW 30th Anniversary.